Frank Marano, Jr. Joins Good Samaritan Services Board of Directors
February 25, 2019 – MacElree Harvey, Ltd. is pleased to announce Frank Marano, Jr. has joined Good Samaritan Services Board of Directors.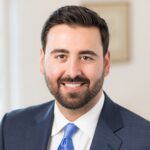 Good Samaritan Services gives immediate help to people who are experiencing homelessness and helps those at risk of becoming homeless, by restoring their lives to stability.
Said Marano, "I am excited to join the Board of Good Samaritan Services and do my part to support this organization whose mission is to help those at risk."
Frank received his JD from the Syracuse University College of Law and his LL.M. in Taxation from Temple University Beasley School of Law. Before law school, Frank earned his Bachelor's degree in economics from Duquesne University where he was also a member of the football team.
At MacElree Harvey, Mr. Marano represents clients in various business, tax, and real estate matters.
---
About MacElree Harvey, Ltd. With roots that reach back to 1880, MacElree Harvey is a full-service law firm serving clients from offices in Pennsylvania and Delaware. In addition to its broad-based litigation practices, the firm represents clients in corporate law, mergers & acquisitions, labor and employment, real estate, banking & finance, bankruptcy, family law, estate planning, tax law, personal injury, and criminal defense.
Attorney
Category
Practice Area
Browse Categories
Browse Practice Areas