Hillary J. Moonay Elected to the Yardley Makefield Soccer Club's Board of Directors
November 2017
MacElree Harvey, Ltd. is pleased to announce that Hillary J. Moonay, Esq. has been elected to the Board of Directors of the Yardley Makefield Soccer Club (YMS). She will serve as secretary for a two-year term beginning Nov. 1, 2017.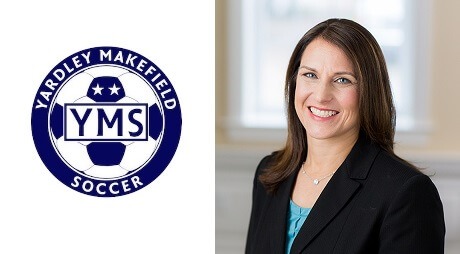 Yardley Makefield Soccer exists to create a positive environment for all athletes to improve as individuals through the sport of soccer, with a strong emphasis on character, work ethic, and a positive attitude.
Ms. Moonay is a member of the Pennsylvania and New Jersey Bars and is resident in MacElree Harvey's Doylestown, Pa. office.
At MacElree Harvey, Ms. Moonay focuses her practice exclusively in the area of family law, where she handles all phases of the negotiation and litigation of domestic relations cases, including divorce, child custody, child support, alimony/spousal support, equitable distribution, prenuptial and postnuptial agreements, and related issues. She is well-versed in the financial aspects of divorce cases, including the intricate issues related to complex business valuations and forensic accounting matters.
About MacElree Harvey
Founded in 1880, MacElree Harvey, Ltd. is one of the largest and most respected Chester County-based law firms with offices in West Chester, Pa.; Kennett Square, Pa.; Doylestown, Pa.; Bala Cynwyd, Pa.; and Centreville, De. The firm represents clients across Pennsylvania and Delaware in all aspects of family law, estate planning, tax law, business law, employment law, real estate, banking & finance, bankruptcy, personal injury and criminal defense. U.S. News & World Report and Best Lawyers ranked MacElree Harvey, Ltd. among the 2017-2018 "Best Law Firms" in the Philadelphia metropolitan area in Family Law and Land Use & Zoning Law. Visit www.macelree.com to learn more about the firm.