Caroline G. Donato
Partner – Criminal Defense
"In matters of truth and justice, there is no difference between large and small problems, for issues concerning the treatment of people are all the same." – Albert Einstein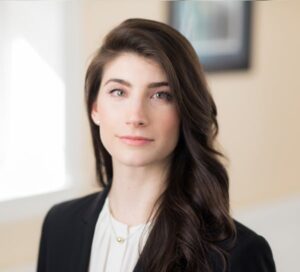 Caroline G. Donato is a Partner in MacElree Harvey's Criminal Defense Practice Group. She focuses her practice on federal and state criminal defense and related civil and administrative matters at both the trial and appellate levels. As part of the Corporate Compliance, Investigations, and Criminal Defense team, her experience includes federal and state business compliance matters, collegiate investigations, county and state grand jury investigations, and complex criminal allegations, including sex crimes, violent crimes, drug charges, and crimes involving fraud and dishonesty. Caroline hosts Subject to Cross with Peter E. Kratsa, a podcast about criminal defense and related topics under the law, available on iTunes, Google, Spotify, and SoundCloud.
Before joining MacElree Harvey, Caroline clerked for a criminal defense practice in Wilmington, Delaware. She was also a law clerk for the Office of the Federal Public Defender for the District of Delaware, a certified legal intern for the Chester County District Attorney's Office, a News Department Intern for CBS Philadelphia, a law clerk to several criminal defense attorneys throughout Pennsylvania, and a Public Policy Intern at the University of Pittsburgh Institute of Politics.
During law school, Caroline served as the President of the Women's Law Caucus, the Treasurer of the Student Bar Association, and was a member and competed nationally on behalf of the Trial Advocacy, Moot Court, and International Moot Court Honor Societies, as well as the Alternative Dispute Resolution Society. Caroline was also a member of and competed locally in the American Association of Justice Society. Caroline participated in and completed Widener Law's Intensive Trial Advocacy Program.
Throughout her legal education, Caroline was the recipient of the 2014 Philadelphia Trial Lawyers Association James J. Manderino Award for Trial Advocacy, the 2013-2014 Outstanding Service Award, and the 2013 Certificate of Achievement in White Collar Crime. She received Best Oral Advocate awards in local and national Moot Court Competitions, was part of the First Place Defense Team as a finalist in the 51st Annual Academy Interscholastic Mock Trial Competition, and won Best Overall Team in an American Association of Justice Competition.
Prior to law school, Caroline studied Politics and Philosophy at the University of Pittsburgh. She was a member of the University of Pittsburgh Women's Lacrosse Team and captain during the 2010-2011 season. As a Public Policy Intern for the University of Pittsburgh Institute of Politics, Caroline focused her research on Marcellus Shale and was published in the Institute of Politics Report, Issue 45.
To learn more about Caroline's practice and recent cases, please visit www.peterkratsacriminaldefense.com.
Testimonials
Caroline was referred to me by a well respected fellow attorney. Her level of professionalism, timeliness, organization, responsiveness, knowledge and ability to navigate the legal system was excellent. She made a challenging situation navigable. I respect and appreciate her. Highly recommend.
I brought on Caroline to help me battle a felony along with two misdemeanors extending from several mistakes that I made. She is extremely knowledgeable and was beyond helpful throughout the entire mitigation process and in a little under 9 months was able to negotiate me a deal to keep me out of jail and give me a second chance at life. Words don't express the gratitude I have for Caroline and the rest of her team. Hands down the best lawyer out there.
Notable Representations
Multiple successful jury trial acquittals of rape, sexual assault, strangulation, and assault allegations
Success in suppressing illegally obtained evidence in various allegations, including murder, drug possession, and DUI
Successful resolutions of felony allegations of aggravated assault and strangulation
Successful resolutions and dismissals of PWID felony charges
Multiple successful challenges to Indicated status by CYF
Successful appeals before the Commonwealth Court for CYF Indicated and Founded Reports of child abuse
Success in Sexually Violent Predator sentencing
Success in PennDOT license suspension appeals
Success in defending Driving Under Suspension allegations
PFA defense and successful resolutions of related Indirect Criminal Contempt allegations
Successful resolution of terroristic threat allegations
Dismissal of theft allegations
Successful resolution of DUI charges and related unlawful searches
Favorable dispositions for clients accused of sex offenses and/or violent offenses
Favorable dispositions for clients charged with summary criminal and traffic offenses
Representation of state and federal grand jury witnesses
Successful negotiation of withdrawal of PFA petitions and ICC allegations
Successful suppression motions and related prosecution declinations
Successful withdrawals of non-traffic offenses
Successful placement into ARD on serious allegations
Successful mitigated sentences on serious allegations
Obtained pre-trial federal and state release when opposed
Prosecution declination of felony theft allegations
Successful federal representations of targets, subjects, and witnesses
Favorable federal sentences obtained in serious allegations involving white collar and internet crimes
Proper and timely responses to various federal civil and administrative subpoenas for document production leading to case closures
Memberships
Pennsylvania Association of Criminal Defense Lawyers (PACDL)

Member (2014-present)
Next Generation Committee (2016-present), Chair (2018-2021)
CLE Committee (2017-2019)
Board of Directors Member (2020-present)
Advocacy Committee (2020-present)

National Association of Criminal Defense Lawyers (2014-present)
Chester County Bar Association (2014-present)
Pennsylvania Bar Association (2014-present)
American Bar Association (2014-present)
Pennsylvania
New Jersey
Eastern District of Pennsylvania
Supreme Court of the United States
Temple University James E. Beasley School of Law, Master of Laws – LLM, Trial Advocacy (2019-2020) with Honors
Widener University School of Law (2011-2014)
University of Pittsburgh, Politics & Philosophy (2007-2011)
AWARDS
Pennsylvania Super Lawyers, Rising Star (2018-2023)
Main Line Today, Top Lawyer (2015–2023)
Chester County Chamber of Business & Industry, 2019 Rising Star of the Year
Master of Laws – LLM, Trial Advocacy with Honors (2019-2020)