Daniel T. Crossland
Partner – Trusts and Estates, Business, and Real Estate
"The greatest danger for most of us is not that our aim is too high and we miss it, but that it is too low and we reach it." – Michelangelo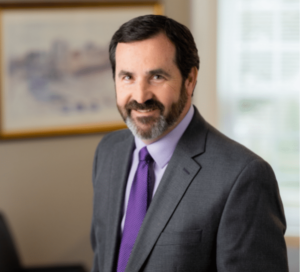 Dan uses his nearly 30 years of experience to assist families and businesses with an assortment of legal matters. He represents clients in a range of estate and trust matters, including preparing wills, trusts, powers of attorney, and creating legal entities in order to plan for family wealth transfers and business successions. He also serves as counsel for numerous local businesses, including startups, established family companies, and large regional operations. Dan regularly assists clients with diverse real estate matters ranging from simple refinances to multimillion dollar purchases, and a variety of business matters from basic contracts and business formations to complex transactions. Because of his experience successfully resolving business issues for his own clients, Dan has been hired as a mediator by third parties as an alternative to litigating in court. He has also served as the court-appointed trustee in several fiduciary litigation cases appearing before the Delaware Court of Chancery, where he also regularly serves as the court-appointed attorney ad litem in guardianship cases.
Prior to joining MacElree Harvey, Dan most recently served as a founding member and managing partner of Crossland, Heinle & Bryde. Born and raised in Delaware, Dan attended the Tatnall School and the University of Rochester prior to graduating from the Villanova University School of Law.
In his spare time Dan enjoys traveling, listening to music, and spending time with friends and family. On fall weekends he can be found cheering on the Pittsburgh Steelers and the Penn State Nittany Lions.
Notable Representations
Represented corporate sellers in the $25 million transfer of three operating car dealerships and two commercial properties, with partial seller financing.
Developed a wealth transfer plan to carry out a client's philanthropic goals including a charitable remainder trust that successfully provided for the grantor and his wife before providing substantial bequests to several well-known charities.
Helped a client with the purchase of a sizable industrial property, from negotiating the deal and navigating multiple state-imposed environmental restrictions, through settlement and construction of a warehouse on the property.
Negotiated and documented the real estate, business and franchise transfer terms involved in the sale of a client's business, which included three fast food restaurants and two commercial properties.
Assisted in the design and creation of a complex wealth transfer plan, including family limited liability companies and generation skipping trusts, to enable the transfer of a family real estate compound and multiple commercial properties valued at over $20,000,000 to succeeding generations.
Successfully counseled a business client through the legal process and the lender's requirements to obtain $12,500,000 in SBA and other financing enabling them to develop an entertainment facility.
Structured the transition of a series of family-owned companies to the next generation through a gifting plan, including the use of valuation discounts, effectuating a substantial estate tax savings.
Defended a commercial condominium association against a Writ of Monition, thereby preventing the commercial condominium building from being subject to a lien and possible sheriff's sale.
Counsels families and individuals in estate probate and trust administration matters including: the preparation of wills, trusts, powers of attorney, and advance health directives; retitling assets into trust; probating estates; and planning for generational transfers.
Acts as outside legal counsel for local and regional businesses, assisting them in matters including: business startup considerations such as incorporation, licensing and financing; contract drafting, negotiation and review; documenting ownership transfers and financial transactions; preparing statutorily required corporate documentation; and business continuation planning.
Assists clients with commercial and residential real estate issues such as: purchases and sales; refinances; lease drafting and review; creating easements; intrafamily property transfers; and preparing deeds, mortgages, and deed restrictions.
Memberships
Delaware State Bar Association (Estates and Trusts Section and Commercial Law Section)
Hockessin Business Association
Previous Memberships
Delaware Sports Museum & Hall of Fame
Delaware Trial Lawyers Association
Pennsylvania Bar Association
Community Involvement
Widener University Delaware Law School Moot Court Interscholastic Competition Volunteer Judge
Hockessin Business Association, pro bono legal services
Hockessin Historical Society, pro bono legal services
Past member of the Delaware Swim Team Parent Boosters
Past volunteer parent for the Hockessin Soccer Club
Past Member of the Aldersgate United Methodist Church Staff/Parish Relations Committee
Delaware, 1993
U.S. District Court for the District of Delaware, 1994
Pennsylvania, 1992 (inactive)
University of Rochester, B.A. History
Villanova University School of Law, J.D.
AWARDS