Leo M. Gibbons
Partner – Commercial Litigation and Real Estate Litigation
Leo M. Gibbons is a partner in MacElree Harvey's Banking and Finance practice. Licensed in Pennsylvania, Leo advises financial institutions, businesses, individuals and owners of commercial real estate on creditors' rights, loan enforcement, loan workouts, complex business disputes, bank litigation and secured transaction litigation, collection actions, foreclosure proceedings and landlord/tenant disputes.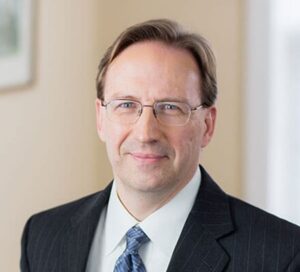 Prior to joining MacElree Harvey in 1999, Leo served as a judicial clerk for two judges: the first a judicial clerkship with the Honorable Charles R. Alexander of the Court of Common Pleas of Clarion County, Pennsylvania and the second as chief judicial clerk for the Honorable James R. Cavanaugh of the Superior Court of Pennsylvania. These responsibilities provided Leo with experience and insight into the judicial decision-making process, which has helped him to better serve his clients.
Notable Representations
Represented landlord in a case where the tenant defaulted on a commercial lease. Recovered possession of the leased property for the landlord and a substantial portion of the unpaid back rent.
Defended client sued as a guarantor of a business loan by filing a petition to strike and/or open the judgment. Matter resolved after commencement of litigation at a substantial discount of the amount owed on the guaranty.
Debt workout/restructuring for a client in the construction industry who defaulted on obligations to lenders and suppliers due to the slumping real estate market. Assisted the client in re-working certain loans and obligations and delaying others so that he could remain in business.
Defaulting borrower filed bankruptcy on the eve of the execution on borrower's real estate by the client. Obtained retroactive relief from the automatic stay on client's behalf to allow the execution to proceed.
Represented a client in an investigation and litigation proceeding involving embezzlement and fraud by company employees. Successfully pursued former employees and obtained substantial recovery of stolen funds.
Client was sued by a bankruptcy trustee for payments made to it on the eve of the debtor's bankruptcy. Resolved the matter with no payment to the bankruptcy trustee based on value given by client and the monies received by client were in the ordinary course of business.
Memberships
Chester County Bar Association
Pennsylvania Bar Association
Business Networking International
Previous Memberships
Chester County Bar Association, Bankruptcy Insolvency Section Chair
Community Involvement
Westtown-Goshen Rotary Club, President 2010-2011
Community Involvement
West Chester Area Day Care Center, Past President
Brandywine Battlefield Park Associates, Board Member
Videos
Pennsylvania
United States District Court for the Eastern District of Pennsylvania
United States District Court for the Western District of Pennsylvania
University of Pittsburgh School of Law
University of Pittsburgh
Political Science