Marie I. Crossley
"Marie is an honest and trustworthy lawyer. She is meticulous and thorough when going through case material. Marie fights to get what is in the best interest of her client. Her knowledge of the legal system and laws is unmatched. Marie is genuinely caring and knows how to handle the delicate situations that arise in family court matters. I highly recommend Marie and intend on utilizing her for my legal needs going forward." – Client Review from Avvo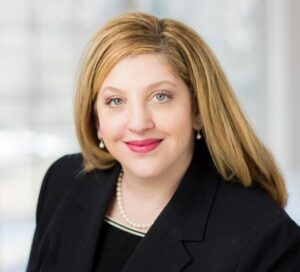 Marie I. Crossley has practiced exclusively in the Delaware Family Law arena for over 16 years. She handles a wide variety of Divorce, Custody, Child Support, Alimony and other Family Law matters ranging from the mediation of small disputes to complex Divorce, Custody and Support litigation.
Marie has recently added Mediation to her practice to accommodate clients who are looking for an alternative to the adversarial nature of traditional Divorce, Custody and Support litigation. Marie works out of the Centreville, Delaware office at MacElree Harvey, Ltd.
Marie graduated from Villanova University School of Law in 2001. She clerked for the Honorable Alison Whitmer Tumas and the Honorable William L. Chapman of the Delaware Family Court until entering private practice in 2002. Marie spent ten years as a Family Law Attorney, and then Partner, of a Wilmington Delaware Law Firm until joining the Family Law Group at MacElree Harvey, Ltd.
Marie prefers to be directly involved in every aspect of her client's matter and feels that communication is the foundation of any successful attorney-client relationship. She works with each client directly providing legal advice and guidance tailored to their specific case.
Notable Representations
Successfully assisted a Wife in obtaining a lifetime alimony award against a Husband who refused to support even despite a previous Court Order.
Assisted a client in obtaining an Order, and then enforcing the Order, to force the sale of the former marital residence, despite the spouse's absolute refusal to cooperate.
Defended a Mother and two young daughters in a Visitation Petition filed by a Father who is an admitted drug addict. After the trial, the Court Ordered Father to submit to drug-testing and limited Father's contact to a Visitation Center until Father produces a clean drug screen.
Assisted a Father in mediating an agreement for shared residential placement of his two-year-old son. The case involved the issue of breastfeeding and was focused on how to accommodate the feeding schedule without infringing on Father's relationship with the child.
Successfully obtained an Order for School Enrollment in an Out-of-State school district for a Parent who relocated from the State of Delaware.
Assisted a Bride-to-be in the drafting and negotiating of a Prenuptial Agreement to protect her significant pre-marital assets.
Memberships
Delaware State Bar Association:

Family Law Section
Alternative Dispute Resolution Section, Vice-Chair
Women and the Law Section

Melson-Arsht Inn of Courts
Community Involvement
Delaware Violence Advocacy Project
Delaware Volunteer Legal Services
Office of the Child Advocate
Delaware State Bar Association, Pro Bono Award Recipient
Rotary Club of Wilmington, DE
Videos
Villanova University School of Law, Class of 2001
Law Clerk to the Honorable William L. Chapman and the Honorable Allison Whitmer Tumas, Delaware Family Court
Washington & Jefferson College, Class of 1998
AWARDS
The Best Lawyers in America© 2020-2021, Family Law
Delaware Today 2021 Top Lawyer