Tiffany M. Shrenk
Partner – Civil Litigation
Tiffany brings over 10 years of experience working with individuals with civil legal matters in Delaware and Pennsylvania. Tiffany brings over 10 years of experience working with individuals with civil legal matters in Delaware and Pennsylvania. She is an attorney in the firm's Delaware and Kennett Square offices and is licensed to practice law in…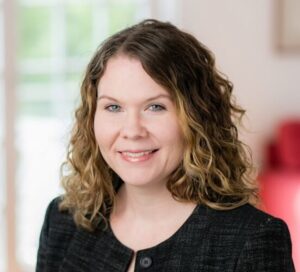 Tiffany brings over 10 years of experience working with individuals with civil legal matters in Delaware and Pennsylvania. She is an attorney in the firm's Delaware and Kennett Square offices and is licensed to practice law in Delaware and Pennsylvania. Tiffany represents clients in a wide range of civil litigation matters and has focused primarily on the handling of personal injury claims and estate litigation cases. Her personal injury experience includes automobile, truck, and motorcycle accidents, along with slip and fall, medical malpractice, and wrongful death cases.
In addition to her personal injury and estate litigation practice, Tiffany represents individuals in adult guardianship proceedings, contested and uncontested, fiduciary litigation claims, and contract claims.
Tiffany attended St. Mark's High School in Delaware. She earned her bachelor's degree in Economics from Boston University, then graduated summa cum laude from Duquesne University Law School in 2009. While in law school, she was a member of the Duquesne Law Review and interned for the Honorable Joy Flowers Conti, United States District Court for the Western District of Pennsylvania.
Active in the community, Tiffany serves as a volunteer attorney guardian ad litem for The Office of the Child Advocate, a state agency charged with safeguarding the welfare of Delaware's children, where Tiffany provides legal representation for dependent, neglected, and abused children in the foster care system.
Notable Representations
Car Accident – Wilmington, DE – Six-figure recovery for healthcare professional who suffered debilitating head and neck injuries in rear-end motor vehicle collision.
Car Accident – Smyrna, DE – Obtained a large recovery from the underinsured motorist coverage for a client injured in a rear-end motor vehicle collision.
Pedestrian Accident – Newark, DE – Recovered a six-figure underinsured motorist settlement for pedestrian struck by an erratic driver who veered off the roadway.
Partition Action – Chancery Court of Delaware – Represented owner of a beach property in a Chancery Court partition proceeding where the co-owner failed to contribute toward the expenses of the property
Adult Guardianship Proceedings – Chancery Court of Delaware – Represented petitioners and respondents in contested and uncontested proceedings for the appointment of a guardian for a disabled adult
Name Change Petitions – Court of Common Pleas Delaware – Representing individuals (adults and minors) seeking a legal name change
Pedestrian Accident – Newark, DE – Successfully filed an underinsured motorist claim for a client who stood on the edge of the roadway waiting to cross the street when struck by an erratic driver who veered off the roadway.
Bicycle Accident – Wilmington, DE – Client was riding her bicycle when she was struck by a motorist who ignored a stop sign. Ensured that the client received her no-fault benefits from the motorist's insurer and achieved a settlement to compensate the client for pain and suffering.
Slip and Fall – Wilmington, DE – Successfully obtained a settlement in excess of $20,000 for a client who slipped and fell in a retail store due to uneven flooring. The client suffered a shoulder injury that resolved without invasive treatment.
Will Challenge – Chancery Court of Delaware – Successfully represented four siblings against a fifth sibling who had mother's will changed and a new deed drafted just weeks prior to the mother's death.
Challenge to Change of Life Insurance Beneficiary Form – Federal District Court of the District of Delaware – Represented a wife claiming upon undue influence and lack of capacity her husband's execution of a change of beneficiary form appointing the husband's brother as the beneficiary of the husband's life insurance policy shortly before his death.
Wrongful Death and Medical Malpractice – Wilmington, DE – Successfully represented a mother alleging medical malpractice against a Delaware psychiatrist that lead to the death of her daughter.
Real Estate Fraud – Wilmington, DE – Represented buyers against the sellers of a condominium unit who failed to disclose to the buyers that the City of Wilmington had ordered repairs to the condominium building's exterior walls resulting in a special assessment to unit owners in excess of $25,000.00.
Memberships
American Bar Association
Pennsylvania Bar Association
Delaware State Bar Association
Delaware Trial Lawyers Association
Community Involvement
Centreville Civic Association, Board Member
The Office of the Child Advocate, Volunteer Attorney
Videos
Delaware
Pennsylvania
United States District Court for the District of Delaware
Boston University, Economics
Duquesne University School of Law, Pre-Professional Studies