"Personal Injury From A to Z" CLE – Tiffany M. Shrenk a featured speaker
Attorney Tiffany M. Shrenk will be a featured speaker at the National Business Institute CLE seminar "Personal Injury From A to Z" on Thursday, April 19, at the Sheraton Wilmington South Hotel in New Castle. Tiffany's presentation, on day 1 of the 2-day seminar, will cover Fundamentals of Local Procedure and Legislative, Case Law and Regulatory Trends and Developments.
Personal Injury CLE Program Description
Two Comprehensive Days of Personal Injury Law and Practice
This authoritative course will provide you with the foundational information and knowhow essential to starting or refreshing a personal injury practice. Our seasoned faculty will walk you through the nuts and bolts of personal injury practice and procedure, from case intake and evaluation to trial. Then, they will delve more in-depth on liens, damages, medical records and other key topics. Don't miss this opportunity for a full look at personal injury – register today!
Walk through the key steps of personal injury practice and local procedure.
Build an understanding of first-party and third-party insurance coverage.
Hear the latest case law, trends, and developments in personal injury.
Learn the ABC's of damages, from economic to pain, suffering and punitive damages.
Examine methods used to eliminate or minimize liens in injury cases.
Navigate common admission issues with medical records and bills.
Observe negotiation tactics utilized by plaintiff and defense attorneys.
Determine the admissibility of expert testimony in injury cases.
Take a crash course on personal injury trials, from opening statements to closing arguments.
Who Should Attend
This basic-to-intermediate level seminar is designed for attorneys. Insurance professionals and paralegals may also benefit.
Click here for more information and to register.
---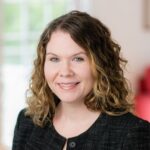 Tiffany is an associate attorney with the law firm of MacElree Harvey, Ltd. in the Delaware office. Licensed to practice law in Delaware and Pennsylvania, Tiffany represents clients in a range of civil litigation matters including, but not limited to, personal injury, trust and estate litigation, real estate litigation, as well as contractual disputes and consumer fraud. Contact Tiffany at (302) 504-7295 or [email protected].
Attorney
Category
Practice Area
Browse Categories
Subcribe to Podcast
Browse Practice Areas