By Tiffany M. Shrenk, Esquire-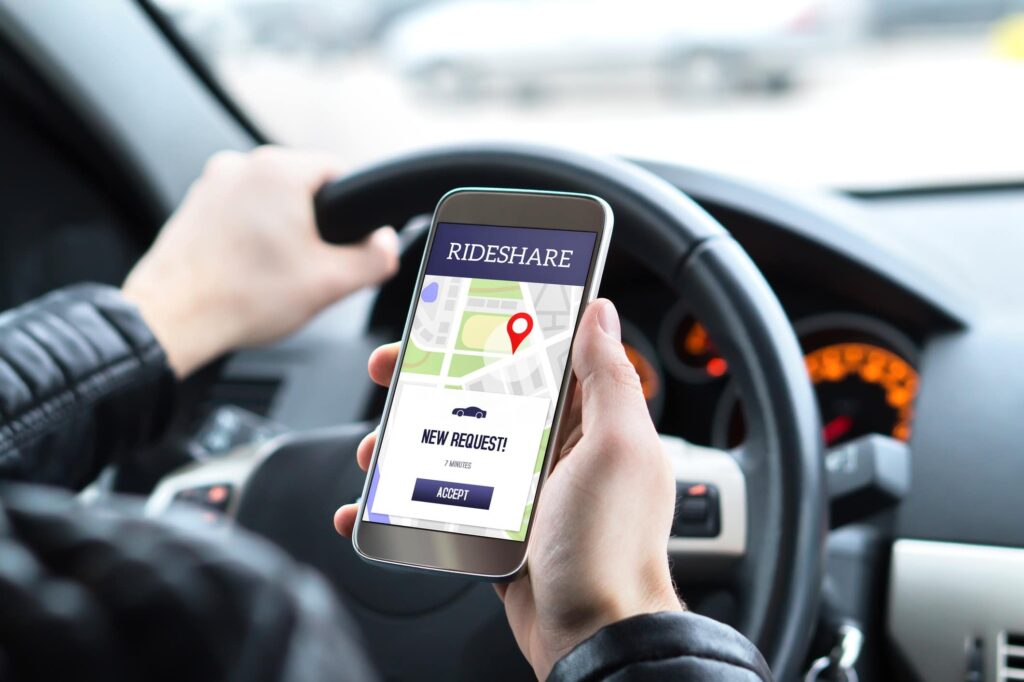 Uber or Lyft rideshare drivers cannot rely upon their automobile insurance for coverage for motor vehicle accidents and doing so will leave them with costly gaps in coverage. That is because personal automobile insurance policies cover you only when you are driving your car for your personal use and typically contain an exclusion denying coverage when you operate your motor vehicle for business purposes. For rideshare drivers, this means that when they are driving with the rideshare app on, a personal automobile insurance policy does not cover them.
To assist with closing these gaps in coverage, Uber and Lyft both offer their insurance coverage for rideshare drivers. But just as with personal auto coverage, the Uber and Lyft policies also leave gaps in treatment. It is important to realize the different situations you will find yourself in if you are a rideshare driver and understand what insurance applies to you in each of those phases.
First, if you are a rideshare driver but you are driving your car for your personal use, and your rideshare app is off, Uber or Lyft insurance does not cover you. Instead, you would need your insurance to cover you for any incident that occurs while driving for your personal use and the rideshare app is off.
The next situation, commonly referred to as "Phase 1" to consider is when you have the rideshare app on, and you are waiting for a rider. Your automobile policy does not cover you in this situation, and there is only limited coverage provided to you by the Uber and Lyft insurance.
Phase 2 arises when you have the rideshare app on and are driving to pick up a rider. Just as in Phase 1, you are not typically covered by your auto insurance for incidents that occur during this phase. Uber and Lyft insurance policies provide coverage, but with high deductibles for damage to your vehicle ($1,000 under the Uber policy and $2,500 under the Lyft policy).
The final rideshare driver situation occurs when the app is on, and you have the rider on board. Incidents that occur during this "Phase 3" is covered by Uber or Lyft insurance, not by a personal auto policy, and have the high deductibles for damage to your vehicle.
From reviewing these scenarios, we see how Uber or Lyft insurance on top of your car insurance policy provides you with greater protection, but still leaves you with gaps in coverage. Automobile insurance carriers have created rideshare insurance to close these gaps in coverage, which is a hybrid auto plan covering drivers in situations of personal use and ridesharing. Rideshare insurance premiums are more expensive than personal auto policies, but they extend coverage limits and deductibles to you when you are ridesharing so that you can ensure protection for you and your passengers in the event of an accident.
---
Tiffany M. Shrenk is an attorney in MacElree Harvey's Delaware office. Licensed to practice law in Delaware and Pennsylvania, Tiffany represents clients in a wide range of civil litigation matters including, but not limited to, personal injury, trust, and estate litigation, real estate litigation, as well as contractual disputes and consumer fraud.
To learn more about Tiffany's personal injury practice, visit her website or contact her at (302) 654-4454 or [email protected].