Mary E. Lawrence
Associate – Litigation and Criminal Defense
Mary E. Lawrence is an Associate in MacElree Harvey's Criminal Defense Practice Group and Litigation Department.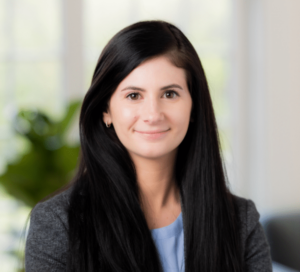 Mary E. Lawrence is an Associate in MacElree Harvey's Criminal Defense Practice Group and Litigation Department.
Before joining MacElree Harvey, Mary clerked for a criminal defense and family law practice in Philadelphia, Pennsylvania. She was also a law clerk for the United States Attorney Office in both the Criminal and Civil Division, a certified legal intern for the Chester County District Attorney's Office, and a law clerk in Philadelphia Family Court.
During law school, Mary served as the Director of the School Discipline Advocacy Service, a pro bono organization that advocated on behalf of Philadelphia Students facing Disciplinary Transfers and Expulsion. She was a member and competed nationally on behalf of Drexel's Trial Advocacy program. Mary was also a member of and competed locally in the American Association of Justice Society. She was the President of Family Law Society and a member of the Criminal Law Society. Throughout her legal education, Mary was the recipient of the Eric D. Turner Award from the American Academy of Matrimonial Lawyers.
Prior to law school, Mary studied Criminology and Sociology through the Schreyer Honors College at the Pennsylvania State University. She was a member of the Penn State Mock Trial Association executive board and competed nationally through the American Mock Trial Association. Mary worked in the Sociology Department as a Teaching Assistant for Women in Justice & Sociology of Deviance, and served as a Research Assistant in the Bennett Pierce Prevention Research Center. In 2018 Mary was selected as the Distinguished Graduating Senior in Sociology.
Testimonials
From the first moment I spoke with Mary there was an immediate connection. Savvy, down to earth, and so good at what she does. There was never a doubt or question as to the status of the case. Mary and her team were outstanding in communication. I was pursuing this case during a very difficult time personally and I was not able to handle any of it. I had trust and confidence in Mary and her team, and they did not disappoint. That is no small thing. Another crucial element in working with Mary, she is empathetic and has a keen emotional intelligence. Believe me, you want that in someone when working through some difficult times. I highly recommend Mary E. Lawrence.
Memberships
Pennsylvania Association of Criminal Defense Lawyers (PACDL) (2021-present)
Chester County Bar Association (2021-present)
Pennsylvania Bar Association (2019-present)
American Association of Justice (2019-present)
Pennsylvania
Eastern District of PA
Drexel University Kline School of Law – JD with Concentration in Criminal Law (2018-2021)
The Pennsylvania State University – Schreyer Honors College, Criminology & Sociology cum laude (2014-2018)
AWARDS
Eric D. Turner Award – American Academy of Matrimonial Lawyers