Harry J. DiDonato
Partner – Business, Real Estate, and Tax Law
With elite business knowledge and foresight, Harry embraces the opportunity to be a problem solver and enjoys finding common sense solutions to complex legal and business problems.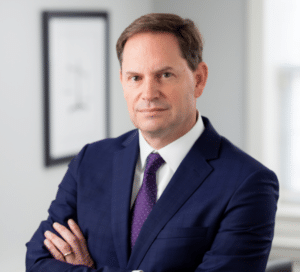 Harry is an experienced transactional attorney and business advisor who works to guide clients through a myriad of legal and business issues. He focuses on solving the business needs of startups as well as more mature companies. As a business owner, Harry understands firsthand the obstacles and opportunities that many small businesses face. His innovative perspective, experience, and aptitude make him a strong business partner and advocate.
Areas of Concentration
Harry has over 25 years of legal experience counseling individuals, small businesses and middle market companies regarding all aspects of general business and corporate matters, real estate transactions, business sales and succession, and tax planning. His representation often starts with advising on the formation and structure of the entity, continues with representing his clients in issues facing small to mid-market companies including contracts, employment matters, financing, and tax matters and ultimately assisting his clients in preparation for and consummation of a liquidity event, whether an equity sale, asset sale, merger or otherwise.
Harry has successfully led interdisciplinary teams of attorneys at MacElree to structure, document and negotiate numerous mergers and acquisitions. He tends to focus on the "big picture" for his clients while also minding the details. His clients include buyers, sellers, investors, strategic partners, and financial advisors.
In addition to serving as general outside counsel for many companies across various industries, Harry devotes a significant portion of his practice to real estate matters from an acquisition, coordination of entitlement process, documentation, construction, sale, lease-up, management, and financing. He has handled a variety of real estate transactions for owners, developers, contractors, sellers and purchasers alike. Harry, together with MacElree's real estate group is a team of professionals that is results orientated and experience in any type of commercial real estate project.
With an LL.M in taxation, Harry works closely with his clients to advise on estate and planning opportunities, including business succession planning and transfers of family-owned businesses to the next generation.
Harry has an AV Preeminent Rating in Martindale Hubbell Peer Review Ratings, the highest legal ability, and ethical standards rating. Harry has been consistently selected to the Pennsylvania Super Lawyers list published by Philadelphia Magazine and Law and Politics Magazine. Only five percent of lawyers in Pennsylvania are recognized on this annual list, which is based upon a multi-phase rating process of peer nominations and evaluations, combined with third-party research.
Out of the Office
When not in the office Harry can be found spending time "at the shore" with his wife and three children, on the golf course at Chester Valley Golf Club, or running on a local trail. Harry is a passionate, and only sometimes obnoxious, fan of the Notre Dame Fighting Irish.
Notable Representations
Counsel to a high-end service company in a $15 million sale to a private equity firm.
Lead attorney in a $23 million acquisition of a manufacturing division of a publically traded company.
Counsel to real estate company in the purchase and finance of a $12.5 million dollar real estate portfolio.
Assisted mushroom industry leader in securing financing for state of the art mushroom facility.
Buyers Counsel in a $35M acquisition of a division of a publically traded company.
Buyer's counsel in the acquisition, rezoning, and development of 78-acre brownfields site.
Seller's counsel in $11M sale of a closely held business.
Counsel to a multi-national industrial company with the acquisition of a division of a publicly held company.
Represented a regional developer in the acquisition, financing, rezoning, and development of 78-acre brownfield site.
Counsel to a professional firm in recapitalization, restructuring, and preparation of complex Partnership Agreement.
Negotiated a $56M acquisition for a seller in which seller became a minority owner in the acquirer.
Advised a family business with business and real estate succession, reorganization, financing and estate and tax planning.
Acting as outside general counsel to a 400 employee distribution and service company.
Represented a mid-market business in the acquisition of a strategic competitor.
Worked with a manufacturer/distributor in a national roll-up of like companies to create a nationwide manufacturing and distribution chain of companies.
Counsel to many start-up companies assisting with the formation, planning, financing, and partnership/shareholder agreements.
Lead US counsel to a privately held acquirer in a multi-national $105 million acquisition.
Memberships
Chester County Bar Association
Pennsylvania Bar Association
Chester County Chamber of Business & Industry
Main Line Chamber of Commerce
Greater West Chester Chamber of Commerce
Community Involvement
Devon Preparatory School, Board of Trustees
Chester Valley Golf Club, Past President (2012-2014)
Youth basketball coach
Speaking Engagements
Lectures frequently on business, real estate and tax topics to a variety of local audiences.
Videos
Pennsylvania
New Jersey
United States District Court for Eastern District of Pennsylvania
Villanova University School of Law, J.D. and LL.M.
University of Notre Dame, Pre-Professional Studies
AWARDS