Michael G. Louis
Partner – Commercial Litigation and Real Estate Litigation
Michael Louis is Chair of MacElree Harvey's Banking and Finance Litigation Practice.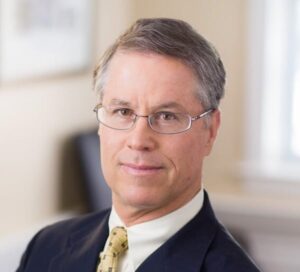 Michael Louis is Chair of MacElree Harvey's Banking and Finance Litigation Practice.
Michael's personal practice supports the needs of businesses and homeowners in a changing economic environment. He has extensive experience defending clients in mortgage foreclosures, collections and loan workouts, general counsel work and real estate litigation, including landlord-tenant litigation. In addition to practicing civil litigation as referenced above, Michael does bankruptcy for debtors and creditors.
Michael has been with MacElree Harvey, Ltd. since 1980. He has received an "AV Preeminent" rating from Martindale-Hubbell, the highest level of professional excellence and ethical standards an attorney can receive from the national attorney peer review rating service. Michael has also been consistently named as one of Main Line Today's "Top Lawyers" since 2009 and selected to Suburban Life's "Awesome Attorneys" from 2012 through 2015. He has the highest rating possible on Avvo, which is derived from client reviews.
Actively involved in the community, Michael has been on the Board of the Greater West Chester Camber of Commerce for many years and previously chaired the Professional Development Committee which runs the programs presented by the Chamber. He served as president of the Interfaith Housing Assistance Corporation of Chester County from 1993 through 2016 and holds the title Director Emeritus. Interfaith Housing is a non-profit corporation that has as its purpose the prevention and/or the end of homelessness among working single parents with dependent children in Chester County. It provides financial assistance, social service and mentoring support, enabling families to remain in clean, safe, affordable housing while they work towards independence. He is also part of the West Chester Lions Club as Past President and current Board Member.
Michael has received the Melvin Jones Fellow Award, the highest recognition from the Lions Clubs International Foundation being given to members who have rendered outstanding community services. Michael's Fellowship highlights his contributions to the Chester County community. Michael recently joined the West Chester Rotary Club and is enjoying being involved in all of their service activities.
Today both Michael and his wife live in East Bradford Township.
Testimonials
Our case with a giant company was quite unique and most lawyers did not have the confidence to take our case. The added problem was because we were Canadians and we needed a US lawyer who should represent us in our absence in the US.
Michael
was courageous and undaunted to extend his professional help. The Company who disregarded our consumers' rights, and disrespected the law, was shrunk by the first letter of Michael who represented us. Our legal battle was smooth sailing with the professionalism of Michael and his staff. Michael knows his stuff, and were assured by his experiences and expertise in dealing with real estate legal matters. Our battle ended in just over a month-long with a positive result. He represented us and work for what we were fighting for in our absence. We did not have to be in the US to fight for our rights. We highly recommend Michael and MacElree Harvey, Ltd for your legal cases.
Notable Representations
Provided local counsel for a bank in litigation with a borrower in which the bank sued the borrower for $60 million and the borrower filed a separate action against the bank, alleging damages in excess of $60 million.
Represented a landlord whose tenant defaulted on a commercial lease. Recovered possession of the leased property for the landlord and all of the unpaid back rent plus the landlord's attorneys' fees.
Defended a client sued as a guarantor of a business loan by filing a petition to strike and/or open the judgment.
Debt workout/restructuring for a client in the restaurant business that defaulted on obligations to lender due to the slumping economy. Assisted the client in re-working certain loans and obligations and delaying others without losing business.
Obtained retroactive relief from automatic stay on client's behalf after defaulting borrower filed bankruptcy on eve of execution on debtor's real estate.
Represented client in investigation and litigation involving embezzlement and fraud by company employees. Successfully pursued former employees and obtained partial recovery of stolen funds.
Represented a client sued by a bankruptcy trustee for payments made to it on the eve of debtor's bankruptcy. Resolved the matter with no payment to the bankruptcy trustee.
Represented a client whose neighbors dogs barked day and night. Obtained a preliminary injunction which was made permanent, keeping dogs from disturbing their use and enjoyment of their property or barking at all between 6 pm to 9 am.
Memberships
Chester County Bar Association, Chair of Real Estate Section
Pennsylvania Bar Association
Community Involvement
Interfaith Housing Assistance Corporation, Director Emeritus
West Chester Lions Club, Past President & Board Member
Greater West Chester Chamber of Commerce, Board of Directors
West Chester Rotary Club, Board
Previous Community Involvement
West Side Little League, Secretary and Coach
"Community Hero Torchbearer," carried the Olympic torch through West Chester, Pennsylvania on its way to the Olympic Games in Atlanta
Speaking Engagements
Presenter: "Short Sales, Beyond the Sale and Release of Debt", Suburban West REALTORS® Association, 2015
Presenter: "Tax Sales", Chester County Bar Association, Real Estate Section, 2018
Panelist: "Legal Issues for Nonprofit Boards", Greater West Chester Chamber's Non-Profit Discussion session, 2018
Presenter: "Real Estate Seller Disclosure Law", Chester County Bar Association, Real Estate Section, 2022
Videos