On Wednesday, April 18, 2018, MacElree Harvey employment & benefits litigation attorney, Jess M. Simon will be a featured panelist for the Greater West Chester Chamber's Business Owners in the Know: "Sexual Harassment Avoidance" discussion. The program is designed to provide individuals with practical information and tools to keep their organization from joining others next to the #metoo hashtag. You will hear the perspectives of a human resource professional, plaintiffs' lawyer, and defense lawyer on a workplace hypothetical that could happen to anyone. You will also receive information on what you can do now to prevent an environment that exposes you to claim of harassment.
When: Wednesday, April 18, 2018, 11:30 am thru 1:30 pm
Where: West Chester Golf & Country Club
Register at Greater West Chester Chamber Events.
---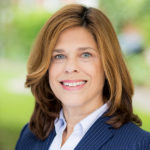 Jess M. Simon has devoted her practice primarily to employment & benefits litigation in federal and state courts. She litigates employment discrimination, wage and hour, non-compete, whistleblowing, and trade secrets cases in PA. When she is not litigating cases, Jess assists employers in the development and implementation of employment policies and practices tailored to the specific needs of their business.

If you have any questions regarding an employment & benefits litigation matter, contact Jess Simon at [email protected] or (610) 840-0258.