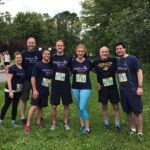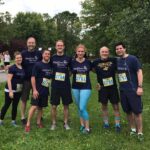 The law firm of MacElree Harvey once again has taken the lead sponsorship role of the Legal Aid of Southeastern Pennsylvania's (LASP) 14th Annual Trial Run which takes place on Saturday, June 23 in Downingtown, PA. Proceeds from the event will support Legal Aid's free legal services for low-income and vulnerable families in Chester County. Since its start in 2005, the race has raised $218,000 in support of LASP's Chester County Division. In 2017, LASP Chester County handled more than 1,300 civil legal cases in areas including domestic abuse, family law, housing, public benefits and more.
MacElree Harvey partner John F. McKenna, former President of LASP's Board (2009 – 2010), is a Gold Sponsor of the Event.  John has been a sponsor since the Race's inception.  John is also a founder of the Access to Justice Program and is currently the Chairman of the Pro Bono Committee of the Chester County Bar Association.
Click here to register. ($10 before June 1, and $15 afterward and on race day). Cash prizes awarded to the first and second place overall male / female runners.
Legal Aid of Southeastern Pennsylvania (LASP) is a non-profit Pennsylvania corporation committed to delivering high quality civil legal services to low-income people, victims of domestic abuse and the elderly living in Bucks, Chester, Delaware and Montgomery counties. LASP provides legal services typically in the areas of landlord/tenant disputes, public housing, utilities, consumer problems including foreclosures and sheriffs' sales, bankruptcy, denial or termination of government benefits such as welfare, Social Security and unemployment compensation, protection from abuse, custody, child dependency, divorce, license suspension and elder law issues. LASP is supported by federal, state and county funds, local and regional foundations and businesses, and through the generosity of bar associations, foundations, law firms and individual attorneys.
For more information about the Trial Run 5K, please contact Brian Doyle, Staff Attorney and Pro Bono Coordinator for LASP's Chester County office in West Chester, PA, at 610-436-4510 x211 or [email protected].