MacElree Harvey's Banking and Finance attorney Leo M. Gibbons recently represented defendant, a Pennsylvania based supplier of kegs for the brewing industry, in a breach of contract action brought in federal court by Plaintiff Penglai Jinfu Stainless Steel Products, Co., a Chinese stainless steel manufacturer. In conjunction with filing the action, Penglai requested the Court to enter both a temporary restraining order and preliminary injunction.
According to PennRecord.com, Penglai alleged defendant was insolvent and unable to satisfy its debt with Penglai. Penglai's request for an injunction was based on its underlying claim for reclamation of any kegs in defendant's possession for which Penglai had allegedly not been paid. Defendant successfully defended the request for injunction on the basis that Penglai could not establish its reclamation claim and the security interest held by defendant's largest secured lender took priority over any unsecured creditor's claim of reclamation. Penglai's reclamation claim was denied, due to "insurmountable procedural and substantive hurdles"; since Pennsylvania law does not usually call for the reclamation of goods on credit.
Leo M. Gibbons commented:
"MacElree Harvey has a long history of successfully representing clients in business disputes. In the present matter, we obtained the necessary result that allowed our client to continue its business affairs without interference from a third party."
---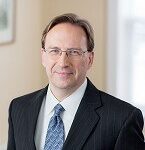 Leo M. Gibbons is a partner in MacElree Harvey's Banking and Finance practice. Leo represents financial institutions, businesses, individuals and owners of commercial real estate in complex business and contractual disputes, loan and leasing matters, and post-judgment collection and enforcement, including sheriff's sales. He also represents these clients and other creditors in workouts and bankruptcy proceedings. Leo enjoys working with business owners and individuals to solve their legal problems. He has guided numerous clients in achieving practical solutions of their problems and has successfully represented many clients before both federal and state courts. Leo can be reached at 610-840-0227.
About MacElree Harvey, Ltd.
MacElree Harvey, Ltd. is a full-service law firm serving businesses and individuals in four offices throughout Pennsylvania and Delaware. Our attorneys provide start-to-finish assistance with completing M&A deals, using the Firm's full resources for everything from due diligence to tax-efficient deal structures to closing the deal. Whether the buyer is a strategic acquirer or a financial one, and whether the seller is a first-time business owner or a serial entrepreneur, we have what it takes to get the deal done.