10 MacElree Harvey Attorneys Recognized As Best Lawyers for 2022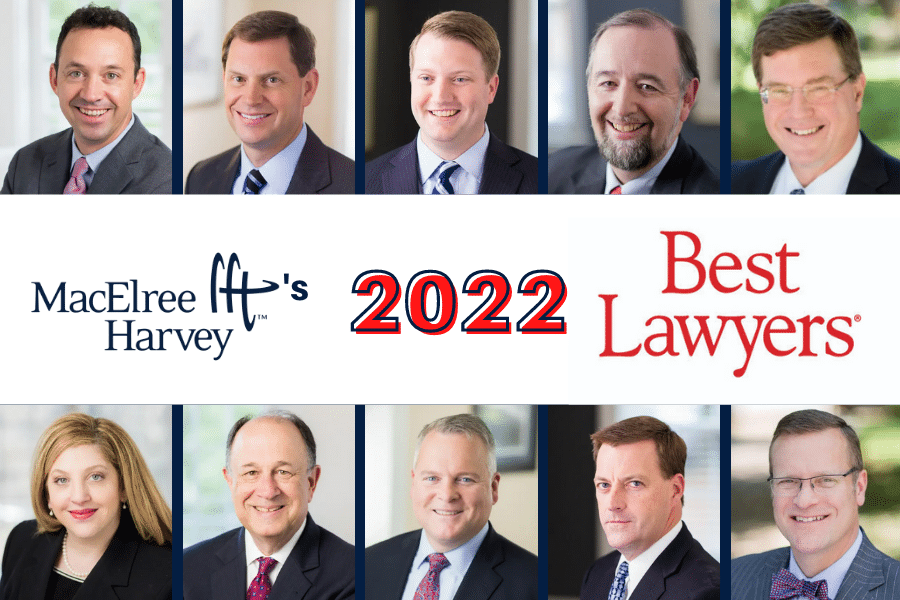 August 19, 2021 – MacElree Harvey, Ltd. is pleased to announce that ten lawyers have been included in the 2022 Edition of The Best Lawyers in America®. Since it was first published in 1983, Best Lawyers has become universally regarded as the definitive guide to legal excellence.
Best Lawyers has published their list for over three decades, earning the respect of the profession, the media, and the public as the most reliable, unbiased source of legal referrals. Its first international list was published in 2006 and since then has grown to provide lists in over 75 countries.
"Best Lawyers was founded in 1981 with the purpose of highlighting the extraordinary accomplishments of those in the legal profession. After three decades, we are proud to continue to serve as the most reliable, unbiased source of legal referrals worldwide," says CEO Phillip Greer.
Lawyers on The Best Lawyers in America® list are divided by geographic region and practice areas. Based on professional expertise, they are reviewed by their peers and undergo an authentication process to make sure they are in current practice and good standing.
"Almost 108,000 industry leading lawyers are eligible to vote (from around the world), and we have received over 13 million evaluations on the legal abilities of other lawyers based on their specific practice areas around the world. For the 2021 Edition of The Best Lawyers in America©, 9.4 million votes were analyzed, which resulted in more than 67,000 leading lawyers being included in the new edition," according to Best Lawyers.
Lawyers are not required or allowed to pay a fee to be listed; therefore inclusion in Best Lawyers is considered a singular honor.
MacElree Harvey, Ltd. would like to congratulate the following lawyers named to the 2022 The Best Lawyers in America® list:
---
About MacElree Harvey, Ltd
With roots that reach back to 1880, MacElree Harvey is a full-service law firm serving clients from offices in Pennsylvania and Delaware. In addition to its broad-based litigation practices, the firm represents clients in corporate law, mergers & acquisitions, labor and employment, real estate, banking & finance, bankruptcy, family law, estate planning, tax law, personal injury, and criminal defense. For more information, visit macelree.com or @macelreeharveylaw on socials.
Attorneys
Category
Browse Categories
Subcribe to Podcast
Browse Practice Areas