July 2017
Michael Louis – a partner at MacElree Harvey, a law firm with offices in West Chester, Kennett Square, Doylestown, Bala Cynwyd, and Centreville, Del. – was recently elected as president of the West Chester Lions Club.
Louis, who is succeeding Tracey Melia, will serve a one-year term.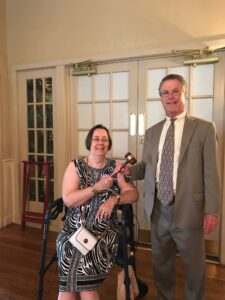 At MacElree Harvey, Louis's practice supports the needs of businesses and homeowners in a changing economic environment. He provides counseling to businesses and individuals in mortgage foreclosures, collections and loan workouts, and real estate litigation.
"I'm proud to have been a member of the West Chester Lions Club for 29 years," said Louis. "This is a great organization to belong to if you're about serving the community."
The West Chester Lions Club engages in a number of civic programs, including Children's Eye Screening, Glasses for Needy, Lions Eye Bank, Beacon Lodge, White Cane Day, Backpack Program, Highway Cleanup, and others. The charitable organizations that the West Chester Lions Club has supported include:
ARC of Chester County
Beacon Lodge and Camp
Care Center for Christ
Community Dinner Program
District 14P Lyme Disease Prevention
Domestic Violence Center
Funding for Sight Conservation & Hearing Improvement
Good Fellowship Ambulance
Habitat for Humanity
Handicrafters
Interfaith Housing
Leader Dog
Lions Eye Bank of Delaware Valley
Local Eye Care for the Needy
Mike Marten Memorial Scholarship
MTI Photo Screening of Pre-School Children
Royer Graves School
Salvation Army
West Chester Recreation Camp
West Chester Area Senior Center
"In my new role as president, I look forward to growing the club in numbers of members and activities in which we actively participate," said Louis. "I hope to do more projects in cooperation with the other Lions Clubs in the area and involve local people, including those with disabilities. Finally, I would like to improve our visibility in the community."
Louis also currently serves on the Board of Directors of the Greater West Chester Chamber of Commerce and is Director Emeritus of the Interfaith Housing Assistance Corporation.