William J. Gallagher Esq. Elected President of Legal Aid of Southeastern Pennsylvania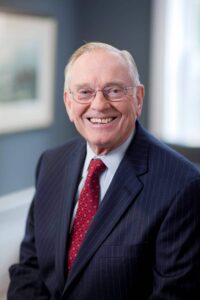 April 2016
MacElree Harvey, Ltd. is pleased to announce that partner William J. Gallagher has been elected president of Legal Aid of Southeastern Pennsylvania (LASP), a "non-profit Pennsylvania corporation committed to delivering high quality civil legal services to low income people, victims of domestic abuse and the elderly living in Chester, Delaware, Bucks and Montgomery counties. LASP's services consist of information and advice, community education, drafting of legal documents, and negotiation and representation in administrative and judicial proceedings." For more information about LASP, please visit lasp.org.
Mr. Gallagher has been practicing law and serving the community for over 50 years. His practice focuses on general litigation, trusts and estates and family law matters. As a former public defender for Chester County and captain in the Marine Corps, William Gallagher has an extensive experience trying complex litigation cases. His commitment to making legal services available for all is substantial. He currently serves as chairman of the board of the Chester County Community Foundation and is a member of the Chester County Bar Association's Pro Bono Committee and Pennsylvania Bar Association's Legal Services to the Public Committee. A longtime resident of Kennett Square, Mr. Gallagher has also served as zoning hearing board solicitor for the Kennett Township since 1970. A graduate of La Salle University, Mr. Gallagher received his law degree from Villanova University.
For more information about William J. Gallagher, visit his bio or watch this video.
About MacElree Harvey, Ltd.
With offices throughout Pennsylvania and Delaware, MacElree Harvey is a full-service law firm focused on corporate and commercial law, complex litigation and arbitration, estate planning, administration and wealth management, labor and employment, business restructuring and reorganization, trademark and copyright infringement, corporate compliance and criminal defense, federal & white collar crimes defense, real estate finance and tax law, as well as personal injury and family law.
Attorney
Category
Browse Categories
Subcribe to Podcast
Browse Practice Areas